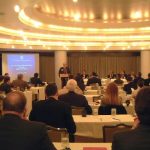 decision analysis partners organized an orientation visit designed to expose airport security officials from Latin American and Caribbean countries to U.S. technology and know-how regarding airport security, in order to promote US technology and services in light of the IDB loan. This orientation visit covers:
The latest U.S.technology and hardware for passenger, baggage, and cargo screening,
A comprehensive review of international and U.S.airport security standards,
Resources available for security training.  Hands-on experience at a major airport used by the Transportation Security Administration (TSA) to train federal security personnel,
A visit to an important research facility for airport security,
Seminars and discussions regarding organizational, administrative, and  implementation issues,
Meetings with international lending agencies to help understand finance issues pertaining to airport security, and
A special presentation by a leading aviation consulting concern, which will provide an overview of the dynamic world of airport security since September 11, 2001.